The Accra Soft Life - A Scam!
6 months ago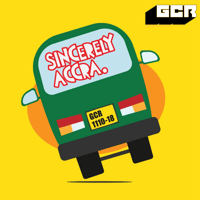 Press Play.
Share | Follow | Subscribe
---
Song Credits
Intro Music
Oshe – Reynolds The Gentleman ft. FRA.
Music Bridges
Sweet Feeling - Moffy, Kyng Loui, Cozy, Freddie Gambini
Philomina - Kofi Bruce
Peso (Serwaa Akoto) - Tictac ft. Nana Quame
Dunno - Yeboah
Fa Bibiara Ma No - Tagoe Sisters
Obi Nyanime - Patience Nyarko ft Brother Sammy
Adedie - Daughters of Glorious Jesus
Joseph's Two Cents Music
Tempo - Reynolds The Gentleman ft. Efya
Letters Bridges
Tsunami - KJ.
Dull - Asake
Odo Kese - Joyce Blessing
Music Closer
Addicted - Yung D3mz & DJay
------------------------------
Send us your dilemma ➡️ listentogcr.com/contact-us
A GCR Production - Africa's Premiere Podcast Network